Have a look at what happens on Wednesday mornings
If you've been trying to get a park at the gardens over the last weekends and marvel at how busy it is,  see how many people are taking advantage of the facilities on Wednesday Mornings.
It was standing room only in the Pavilion as several groups of Seniors enjoyed Morning Tea and Lunch.
One bus load of visitors comes regularly from the Gold Coast
Just a Couple of Seats left here.
The Wednesday volunteers were busy working away in the gardens and the potting shed.
REMEMBER you can come down to the Potting shed behind the Main Shed on Wednesday morning and purchase fantastic locally grown potted plants.
The Potters are busy propagating and potting up in Preparation for
Inaugural Botanic Gardens Australia and New Zealand Open Day, Sunday, 29 May, 2016.  

http://www.bganz.org.au/
and for "SPRINGTIME ON THE MOUNTAIN' Festival In September.
DETAILS AVAILABLE ON OUR EVENTS PAGE.   http://tmbotanicgardens.org.au/events/
The Springtime Brochures have now arrived from the printers and the bookings are starting to pour in for Bus and Coach Tours.
Brochures are available at the Tamborine Mountain Visitor Information Centre
and from the Garden Club.
Whats Flowering at the gardens
The Camellia Hedge at the entrance of the gardens is looking great after it's big haircut last year.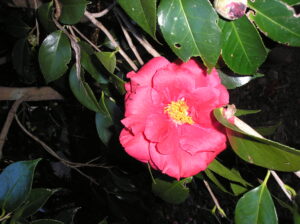 The purple plectranthus never fails to please and the red begonias at the entrance to the Orchid House can be seen from the Car Park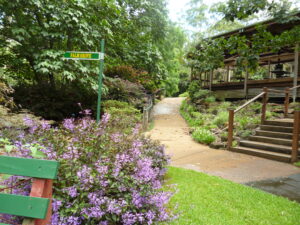 .
Purple Plectranthus near the Pavilion,
So come on down….bring your thermos… and Enjoy AUTUMN in the Botanic Gardens
"Designers want me to dress like Spring, in billowing things. I don't feel like Spring. I feel like a warm red Autumn."      Marilyn Monroe