The Botanic Gardens at Tamborine Mountain were established in 1983 as an initiative of the Tamborine Mountain Garden Club
Early photo of the site before development.
The 11 hectare block of land was a weed-covered swamp that had been designated by the then Beaudesert Shire Council as the site for the establishment of a sewage treatment works.
Negotiations by the Garden Club with local councillor Vonda Youngman saw the management of the land – owned to this day by Council – handed over to the Garden Club for the establishment of a Botanic Garden.
Work then commenced on clearing the site and building the lakes.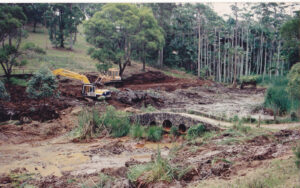 Early photo of a bulldozer bogged in the swamp
The gardens are maintained by a dedicated group of volunteers who have worked tirelessly to develop, construct and improve the gardens, creating a first-class attraction for both locals and visitors to the mountain.
Picnics, weddings and theatrical productions are now regular activities as well as visits from groups from all over Australia.
Guides can be arranged for tours at a nominal charge. Contact Gardens Manager
Maps, available from containers in the pavilion and near the stone bridge, show visitors the layout and the various paths and walkways throughout the Gardens.