The Bromeliad Garden is always a popular spot by the lakeside, these amazing plants with around 3200 species are mostly from the Tropical Americas.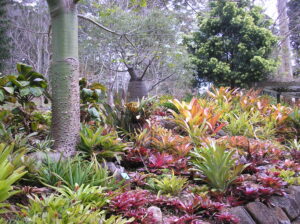 The centrepiece of the garden is a large silk floss tree (Ceiba speciosa) a native of tropical and
sub-tropical South America.  Noted for it's green bark covered in vicious looking cone-shaped thorns the size of your thumb.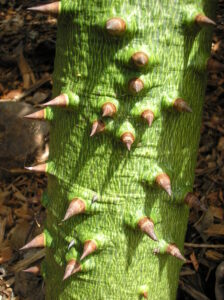 The trunk will eventually develop a bottle shape not unlike the tree growing next to it the Queensland bottle tree (Brachychiton rupestris).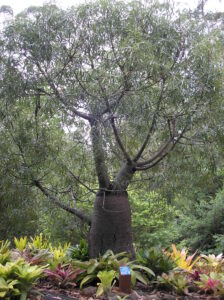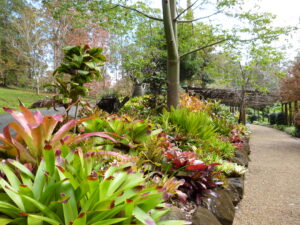 Bromeliads were used for centuries by the Incas. Aztecs and Mayans for food, protection and fibres.
The most well known Bromeliad the pineapple (Ananas comosus) is thought to have originated in Brazil and Paraguay and was first discovered on the Caribbean island of Gaudelope.
Christopher Columbus and other discoverers brought pineapples back to Europe and they quickly became a symbol of wealth and hospitality.  So sought after were the fruit that hostesses rented them for the day to create exotic displays for their tables.
Many architects drew inspiration from the pineapple and images of it appear throughout Europe.
This folly is said to be one of the most bizarre buildings in Scotland. This elaborate garden retreat was used, among other things, to grow pineapples. Follies were a symbol of wealth — only the very rich could afford to build pointless garden structures — and you don't get much more extravagant than The Dunmore Pineapple.

The plant was more commonly referenced on a smaller scale, such as through finials on staircases and gate posts, to welcome guests as an expression of hospitality and to give them an indication of the luxury that they could expect to encounter. – Wikipedia
Charles ll being presented with a pineapple supposedly the first grown in England in 1675
The first pineapples introduced to Australia by Lutheran Missionaries were the small rough leaf variety and the first commercial plantings were established in Nundah (now a suburb of Brisbane) production spread north to Wavell Heights and Zillmere where there is still a Pineapple Street,  and continued to spread north from there.
You're sure to find something to inspire you in the Bromeliad Garden