Coming Soon – New Update Below
Work is continuing on the Sooty Owl Walk under the careful supervision of Brian Davison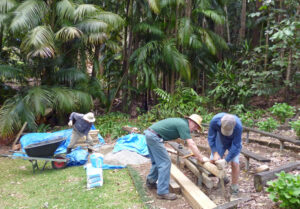 Brian has great ideas for this section of the gardens which will be of great interest to children and adults alike, some exciting projects are underway to make this a unique experience for all the family to enjoy. Stay tuned for progress updates on this fantastic new section of the gardens.

Greater sooty owls are nocturnal and roost in large tree hollows, caves and in dense foliage during daylight hours. Rarely seen or heard they can be found in areas with deep gullies in moist forests, where smooth-barked gum trees, tree ferns and wet forest under-storey are present. They may hunt in drier areas but usually roost and breed in the moister areas.
click here to hear the call of the Sooty Owl http://www.owlpages.com/sounds.php
The volunteers are busy planting ferns and other native plants to create the right habitat.
UPDATE – SECTION ONE OF THE SOOTY OWL WALK IS NOW OPEN
The First Section of the Sooty Owl's Walk is now open for your enjoyment.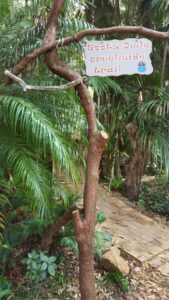 This is an exciting ongoing project that is suitable for all the family.
Some of the exciting features are pictured below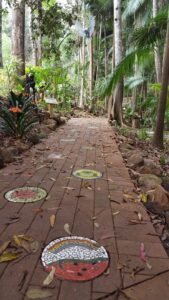 Beautiful Mosaics feature on the entry walk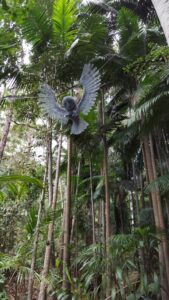 Don't forget to look up into the trees and all around
Crossing over the little bridge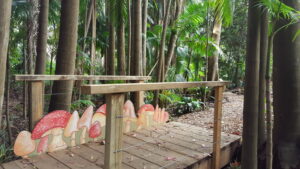 You will come to the crooked little house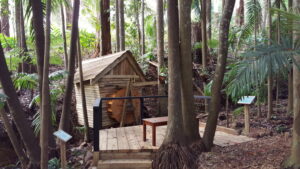 Make sure you look in the windows and listen to the Water Wheel gently Turn
Looking all around you will lots of features  to delight and inform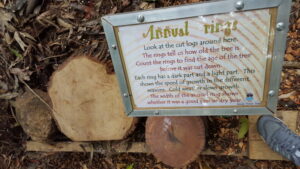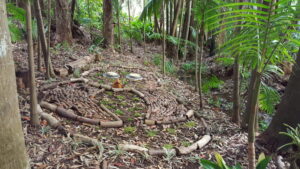 Watch out for news of each section as it opens.

Summertime will soon see the growth of the plantings in each section
This ongoing project is continually being developed by volunteers
The only way forward, if we are going to improve the quality of the environment, is to get everybody involved.
Photos from Chris Davison