What's on your Christmas Table
What's on your Christmas Table
We know there will be lots of Yummy things to eat and drink but we're talking about flowers here
I notice that this year again our popular Hardware and Garden Centre is again featuring the Poinsettia as a plant for Christmas Decorating.
I also noted that several people on Garden Talkback Programs were disappointed that the plants they bought last Christmas have failed to produce lovely Red Flowers again this year.
These Poinsettias are part of a big Christmas marketing campaign and are forced to flower out of their normal season to be on sale here at Christmas. If you have these in your garden you will know that the normal time for the bright red flowers is the middle of our winter. Maybe a good one for 'Christmas in July'.
Why not try our own native New South Wales Christmas Bush?
Ceratopetalum gummiferum-
Johanna's Christmas is a new cultivar
A beautiful dwarf form of the NSW Christmas bush. Its compact with flowers that are a creamy white and they start appearing in profusion in Spring. As these flowers start to die off (no need for dead-heading) the part that holds the flower (called the calyx) turns a deep shade of red. The plant is very hardy, easy to care for and a naturally branched, small shrub.
This grows well on the mountain and because of its dwarf form is easy to pick without a step ladder
I have seen it available in Bunnings so could be worth your while to bypass the Poinsettias and keep going to the Australian Native Shrubs and watch out for the Dwarf Form.
Another great favorite for you Christmas Flower Arrangements is the Hydrangea,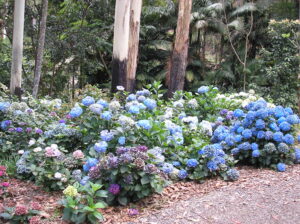 Looking magnificent in gardens on the Mountain and at the Botanical Gardens.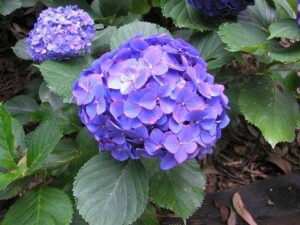 You will find lots of tips on the internet for keeping Hydrangeas from drooping but I find the best thing is to pick them early and plunge in a bucket of water right up to the neck of the flower. They like lots of water, that's why they're called Hydrangeas.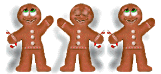 Seasons Greetings to all Garden Journal Readers, Garden Club Members and Botanical Gardens Volunteers