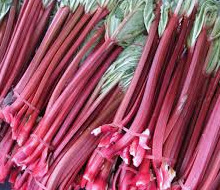 Tamborine Mountain Rhubarb Cake – always served at
'Springtime on the Mountain'
Nola's Remarkable Rhubarb and Coconut Cake
From – 'The Mount Tamborine Gardener' – available from The Garden Club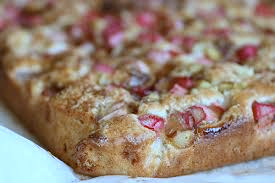 Combine the following
1.1/2 cups self raising flour
1.1/4 cups caster sugar
1.1/4 cups coconut
Add 125 grams of melted butter, 3 beaten eggs, 1/2 cup milk, 1/2 teaspoon vanilla
Spread half mixture into a 20cm pan, Scatter 3/4 cup finely chopped rhubarb evenly.
Add remainder of mixture, top with extra chopped rhubarb and 2 tablespoons raw sugar.
you can also sprinkle on some flaked almonds.
bake in a moderate oven for 1 hour.
Delicious with double cream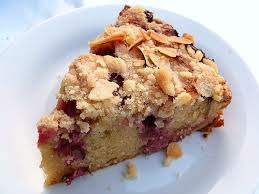 If you don't have rhubarb growing in your own garden you can usually pick it up very cheaply from the many roadside stalls on the mountain or from the Green Shed at the Showgrounds on Sunday mornings.