IMPORTANT ANNOUNCEMENT – SAVE THE DATES FOR NEXT YEAR
SPRINGTIME ON THE MOUNTAIN 2019
The Garden Club are pleased to announce the return of "Springtime on the Mountain" for 2019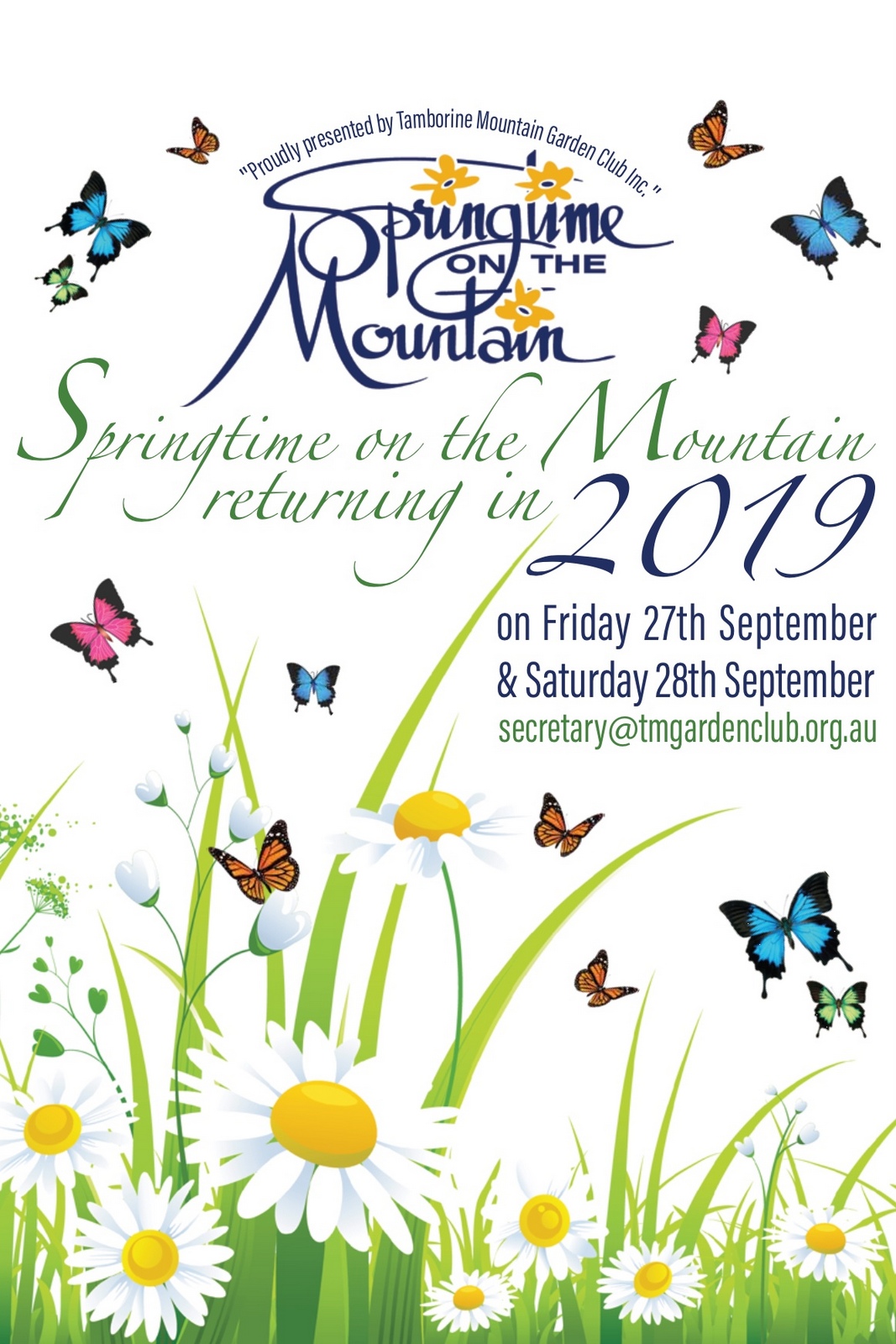 FEBRUARY 2018
RE

TM
After presenting Springtime for the past 33 years and showcasing our beautiful private mountain gardens, the time has come to rest the gardens and the volunteers.    
Springtime on the Mountain will not be held in 2018 
But keep watching for details of "SPRINGTIME ON THE MOUNTAIN"  
27TH AND 28TH SEPTEMBER 2019  
As Springtime has been our major fundraiser to enable the Club to continue its work of administering and developing the Tamborine Mountain Botanic Gardens you may choose to visit the gardens on the weekend of 29th and 30th of September, 2018. We always appreciate your donations. 
On the Saturday 29th of September 2018 from 8am till 12pm the Potty Potters will have their seasonal Spring Plant Sale with all your usual favorites and a Sausage Sizzle. We always value your support as all proceed go towards the continual improvement of the Gardens.
 There will be no entry cost.
This is at the Botanic Gardens only, there will not be any Open Gardens as part of this event.
We would like to take this opportunity to thank all our Garden Owners and Visitors for the wonderful support we have received and we hope that you may still visit us to purchase plants and enjoy the tranquility and beauty of our beautiful Botanic Gardens.
Tamborine Mountain Garden Club Inc                                                                    Executive Committee
Leonie Rowe
President