Special Interest Groups
Vegetable/Fruit Group
This lovely selection from members vegie gardens was on the competition table at the last Garden Club meeting, Club members vote for the winner which for this month was the lovely pumpkin. This variety is known as Kent or JAP Pumpkin. It may be an old wives tale but it is said that the growers of the pumpkin weren't sure of how to market it  so they came up with the acronym of Just Another Pumpkin and we now know it as JAP Pumpkin.
For a great recipe using these ingredients look here
Report from Di Howard
After a break for the Christmas and New Year season, we held our first meeting for the year on the 27th January. For any Garden Club member who is interested in being a part of this focus group, we meet on the 4th Tuesday of the month. Contact Garden Club for details.
Due to the hot, wet and humid weather, the vegetable gardens are in a sorry state.  Now is a good time to prepare the gardens for planting when is begins to cool down.
Things that do particularly well on the mountain are the brassica vegetables. These include cabbage, cauliflower and kale.  All are good for winter cooking. Other vegies that do well are beetroot, beans, peas and carrots. So time to start planning.
This is what you can do with an old bathtub for any of the handymen or women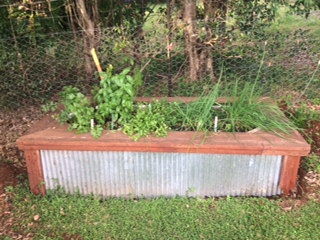 Great for growing herbs in.
One of the plants doing well despite the heat is the wonderful pumpkin, Such a versatile vegetable, so if you have room, put one in.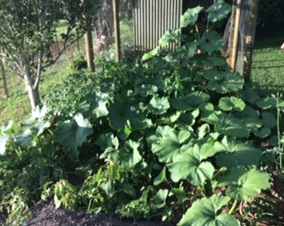 For those of you who have an abundance of Bunya nuts, our next post will include recipes for using them. Maybe you can share your excess with others.
Gardening is cheaper than therapy and you get tomatoes.