Fantastic Program for 'Springtime on the Mountain'
New attractions for Springtime festival
Mark the Dates in your calendar
Friday 25/09/2015 Saturday 26/09/2015 and Sunday 27/09/2015
9.00 am – 4.00 pm
We will have seven fantastic private gardens open this year – most for the first time. Preview the gardens HERE.
This year, we have added a Mountain of new activities and attractions at the Showgrounds throughout the three days.
As well as our own Potty Potters plant sales there will heaps of other attractions.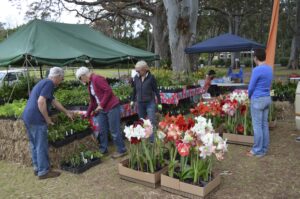 The Gardens Cafe will have lots of tasty treats including our famous Tamborine Mountain Rhubarb Cake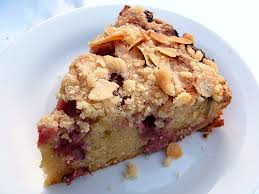 Delicious with whipped cream
Freshly baked scones with jam and cream
There will be freshly made gourmet sandwiches and the guys will be busy cooking a storm on the barbie for the Gourmet Sausage Sizzle
For the caffeine addicts, the Coffee To The Rescue mobile espresso bar will be open all weekend.
We have set up marquees for some amazing demonstrations, including:
Flower Arranging by the effervescent Nola Woodward

Cooking demonstrations by Club Member and gourmet chef Terri Taylor 

Terri also runs the Tamborine Cooking School  http://tamborinecookingschool.com.au/
Plus talks on growing and using herbs, cottage plants, and bees and butterflies.
For a program of activities at the Showgrounds click HERE
UPSTAIRS (immediately above the cafe) at the Showground pavilion we have:
Talented Botanical Artists and local crafts displays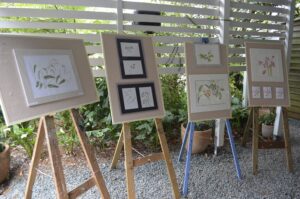 The Green Shed will be open for all your fresh produce
Local Nurseries will  be represented 
Tamborine Mountain Nursery
Birchgrove Nursery
Potted Pleasure
Bromeliad Specialists
Clint Kenny of the Garden Tool Shop will have his fantastic range of Garden accessories,
and we will also have garden sculptures, plant stakes, labels and supports, and  wire pot plant holders.
Don't miss the demonstrations of wood carving by Matt Bird with his chainsaw. View a video of Matt at work HERE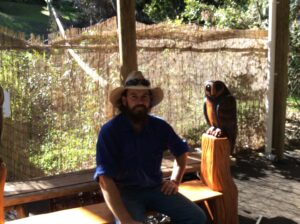 And Learn how to make your own rocks with Mal Longton
Plus heaps of other entertainment to delight you, as well as the seven beautiful private open gardens.
Your Trail Pass is valid for the three days of the festival.
Trail Passes are $20. Dependent children free.
Government Pensioner Card holders $15.
Download a PDF copy of our Springtime on the Mountain 2015 brochure. It includes a map of the entire district with highlights showing the location of each garden, the Botanic Gardens and the Showground.