WEDDINGS AND PRIVATE FUNCTIONS
Main picture by Shirley Hans Photography
The Gardens offer a beautiful location for weddings. They are also a popular venue for many families to celebrate various events.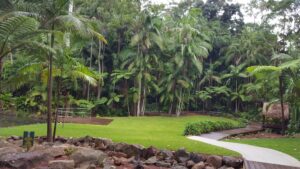 The lawn at the north-western end of the lake (shown above) has recently been fully refurbished and is an ideal site, although other sites are available. We prefer to limit the number of guests to 20, bearing in mind the amount of parking space available and other visitors to the Gardens. We also ask that no confetti or rice be used at ceremonies. We also expect that rubbish be removed following the service and, if music is played, that this is kept to a reasonable volume so as not to disturb neighbours and other visitors.
To book your wedding or function and ensure the availability of the site, please contact our Wedding Manager directly with your names, email and phone contact and preferred area of the gardens. make sure you read the guidelines below.  It should be remembered that, as a volunteer organisation, we are unable to offer some of the services of other gardens.
A booking and donation of $200.00 would ensure your space is reserved and the area is prepared on the day.  The Main Pavilion is for the use of the general public and is not available for wedding bookings.
Please make your donation payment directly to our bank account:
Tamborine Mountain Botanic Gardens Inc.
BSB:  633 000
Account Number:  1646 23134
Please include your name as a reference with the payment.
For Wedding enquiries and bookings, please contact
Or phone Geoff Hurling on  0423 244 076
 As these Gardens are for the enjoyment of the general public at all times, the  following guidelines must be respected:
Simple ceremonies (Wedding and/or Naming) of up to 20 people maximum, with no impact on other visitors' enjoyment are welcome providing they are strictly within the listed guidelines.
No tables are to be moved.
All rubbish is to be taken away and site cleaned up after the ceremony.
Parking areas are to be respected and not congested.
No Vehicles are allowed past the Car Park areas or on the lawns.
Noise levels are to be kept to a minimum.
With the exception of picnic tables and chairs, no furniture, marquees or  decoration are to be  used within the Gardens.
It should be noted that there are continuing development works within the  Gardens which may impact on small functions.
The large covered Pavilion is a Public area and is not available for wedding Bookings. However you may book the Rotunda area at the top of the gardens
There is no provision for inclement weather.
Anyone using the Gardens for a private function, which falls within the above guidelines, is advised to arrange their own Public Liability Insurance cover.
Here's a map of our beautiful gardens.