The Tamborine Mountain Garden Club is celebrating after winning the "Community Event of the Year" at the Scenic Rim Australia Day Awards announced in Beaudesert.
The Club took the award from strong competition across the Scenic Rim for its 2015 Springtime on the Mountain open gardens festival.
The Springtime on the Mountain festival was the largest single community event on Tamborine Mountai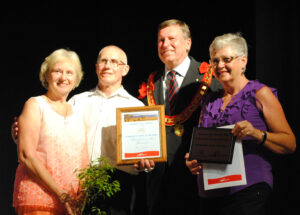 n in 2015, bringing about 3,000 visitors, including 17 bus groups, from as far away as northern New South Wales, the Sunshine Coast and even Blackwater in Queensland's central coalfields.
Operating over a three-day weekend in late September, Springtime on the Mountain raises much-needed funds to continue the development and maintenance of the famed Tamborine Mountain Botanic Gardens, one of the major tourism drawcards for the Mountain.
The award plaque was accepted by Springtime on the Mountain Convenor Margaret Pile, Geoff Hurling (who prepared the winning nomination documents) and Garden Club Vice-President Di Howard,
Accepting the award, Di Howard said the award recognises the hard work over many
months by a large team of Club volunteers as well as the efforts of the garden owners who selflessly work to prepare their private gardens and open to the public over the three-day weekend.